Iced Monster Cookies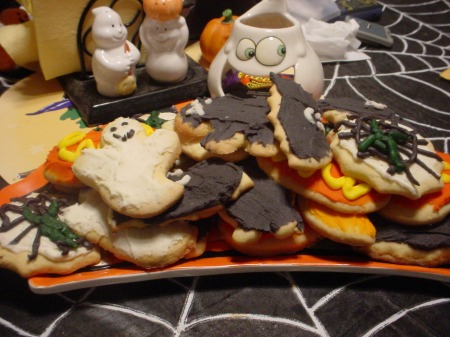 This is the best sugar cookie recipe I have ever used. Roll the cookies thick: about 1/4 inch. I highly recommend the icing recipe I have included, and I also recommend you heat the icing over the cookies as suggested here. Of course, these cookies may be used any time of the year; just use appropriately-shaped cookie cutters. I have also used a plain drinking glass to make round cookies for generic occassions.
What you will need:
1 cup butter or margarine, softened
1 cup sugar
3 eggs
1 teaspoon vanilla
3 cups all-purpose flour
1/2 teaspoon baking soda
1/2 teaspoon baking powder
Cookie cutters in scary shapes

In a large bowl with an electric mixer, blend together the butter and sugar. Add the eggs, vanilla, and 1 cup flour and mix well. By hand, fold the remaining flour, the baking soda, and the baking powder. Refrigerate for at least 2 hours.
Preheat oven to 375 degrees. Lightly grease a large baking sheet.
On a lightly floured board, roll out the dough until it is 1/4 inch thick. Cut out the cookies with the cookie cutters and place them on the baking sheet. Bake for 8 to 10 minutes, until lightly browned. Remove from the oven and let cool. Turn the oven down to about 200 degrees.
Frost the cookies (icing recipe to follow). Now here's the trick: put them back in the oven, and watch them carefully. Don't go away! This only takes about 30 seconds to one minute, depending on how hot the oven is. What you want is for the icing to darken, that means the sugar has melted. Remove from oven and allow to cool thouroughly. Now the frosting has become true icing, and will not smear all over everything and everyone. It also tastes much better!
Makes 2 to 3 dozen cookies
Monster Cookie Icing
What you will need:

1/2 cup solid vegetable shortening
1/2 cup butter or margarine
1 teaspoon vanilla extract
4 cups sifted confectioners' sugar (approx. 1 lb)
2 tablespoons milk
Cream butter and shortening with electric mixer. Add vanilla. Gradually add sugar, one cup at a time, beating well on medium speed. Scrape sides and bottom of bowl often. When all sugar has been mixed in, icing will appear dry. Add milk and beat at medium speed until light and fluffy. Keep icing covered with a damp cloth until ready to use. For best results, keep icing bowl in refrigerator when not in use. Refrigerated in an airtight container, this icing can be stored 2 weeks. Re-whip before using.

To color:

Use regular food coloring, adding one drop at a time to a portion of the icing and whipping until desired color is reached. Remember the icing will get darker when melted over the cookies, so don't use too much coloring. Want black icing? You may notice that no matter how much black food coloring you use, that the icing never gets beyond a silver color. Don't worry! When the icing is heated, it will turn jet-black. So don't overdo the black coloring. Silver is the color to shoot for!
---
Back to Bee's Haunted Recipes