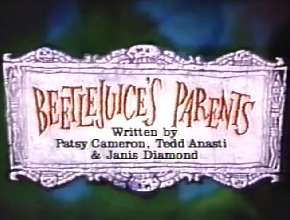 Episode 1-13b: Beetlejuice's Parents
First Aired: Saturday December 9, 1989
On: ABC
Written by: Patsy Cameron, Tedd Anasti & Janis Diamond
Full First Season Credits
Summary:
Yes, you guessed it: Lydia and BJ go to see the latter's parents. His mother is a neat freak and his father is a workaholic - just how far from the tree did Beetlejuice fall?
Featured CGI Portion:
A Neitherworld News segment on the haunted house shortage
Sparky's Big Fat Opinion:
This is an absolute classic episode, pure and simple, even though its not all that funny. I like how the beginning of this ep ties in with the end of "Cousin B.J.", which preceded it in the original airing order.

Back To the Airing Order Guide
Back To the Alphabetical Order Guide
---
The textual content of this page was written by C. "Sparky" Read, and may not be reproduced without her consent. Screengrabs may be taken and used without permission (though giving credit would be polite).