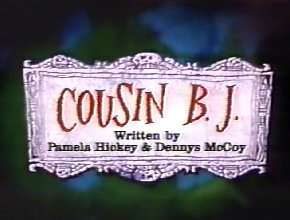 Episode 1-13a: Cousin B.J.
First Aired: Saturday December 9, 1989
On: ABC
Written by: Pamela Hickey & Dennys McCoy
Full First Season Credits
Summary:
Lydia's Aunt Zapora and Uncle Danport (Delia's family) and Aunt May and Uncle Clyde (Charles' family) come for a visit. To liven things up, Beetlejuice poses as "Cousin B.J.", and boy, does he liven things up!
Featured CGI Portion:
A collage of pretty much all the CGI bits from the entire first season
Sparky's Big Fat Opinion:
One of the very best episodes ever! Zapora and Danport have fabulous character designs, and BJ's possession of Clyde's dummy Beppo is just pure genius.

Back To the Airing Order Guide
Back To the Alphabetical Order Guide
---
The textual content of this page was written by C. "Sparky" Read, and may not be reproduced without her consent. Screengrabs may be taken and used without permission (though giving credit would be polite).