There were several comic books put out by the Harvey Comics Company between 1991 and 1992 (I think). Although some of the comics were under different titles they were sometimes actually part of the same series. I do not have a complete listing, but I have put these ones that I have in the publishing order.
Beetlejuice #1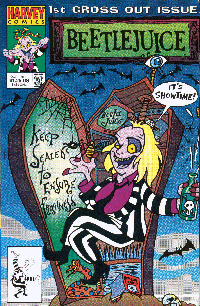 Pub Oct 1991
Features the stories:

This Is Your Lice

Delia hires a hypnotist to turn Lydia into a 'normal teenager'. Unfortunately a side-effect is that she no longer remembers Beetlejuice, the Neitherworld, or any thing else gross. It's up to BJ to jog Lydia down Memory Lane.

Scuzz-o

BJ is keen on winning the Neitherworld Lottery. In fact, he's so keen on it that he's willing to make a deal with...the Devil? Nah, it couldn't be.
Beetlejuice In the Neitherworld #1


Pub Nov 1991

Features the stories:

The Neitherworld Beauty Contest

Beetlejuice enters Lydia in the Neitherworld Beauty Contest in hopes of winning the prize money for himself.

Where the Ghouls Are

BJ causes a little chaos at an Outerworld beach when he becomes...Beetleman, defender of the innocent, saviour of the--ah forget it.
Beetlejuice Holiday Horror-Day Special #1
Pub Feb 1992
Features the stories:

Get Me To the Church on Slime

Beetlejuice falls victim to an old Neitherworld custom and finds himself forced to marry a woman he's never even met before.

Never a Doll Moment

Beetlejuice decides that the doll at the center of the latest toy craze in the Neitherworld would be just perfect for Lydia's birthday...but they're so darn hard to get.
Beetlejuice Crimebusters On the Haunt #1
Pub Sept 1992
Features the story:

Elliot Mess and the Unwashables

Who's been cleaning up the Neitherworld? Beetlejuice forms his own elite crimebusters squad, 'Elliot Mess and the Unwashables' to find out!
Beetlejuice Elliot Mess and the Unwashables #3
Pub November 1992
Features the story:

The Violence On the Lam

Elliot Mess and his Unwashables are hot on the trail of the 'Big Squirt' who's been shamelessly cleaning up the Neitherworld's greatest messes.
---