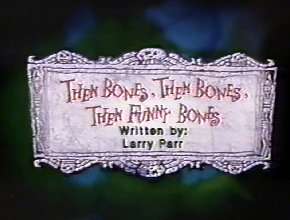 Episode 4-22: Them Bones, Them Bones, Them Funny Bones
First Aired: Tuesday October 8, 1991
On: FOX
Written by: Larry Parr
Full Fourth Season Credits
Summary:
Lydia is to MC at her school's talent night, but she's afraid she isn't funny enough. So - BJ lends her his funny bone. But what's Beetlejuice without a funny bone??
Featured CGI Portion:
A commercial for Beetlejuice's School of Comedy Yucks
Sparky's Big Fat Opinion:
I like everything about this ep except for the ending. Watch for the Tupperware party.

Back To the Airing Order Guide
Back To the Alphabetical Order Guide
---
The textual content of this page was written by C. "Sparky" Read, and may not be reproduced without her consent. Screengrabs may be taken and used without permission (though giving credit would be polite).