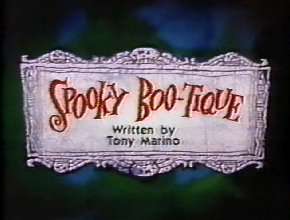 Episode 2-02b: Spooky Boo-tique
First Aired: Saturday September 15, 1990
On: ABC
Written by: Tony Marino
Full Second Season Credits
Summary:
Lydia's creepy fashions gain the girls a spot in the Peaceful Pines Mondo Mall - only no one's interested. So Mr. Beetleman sends a message over the airwaves...
Featured CGI Portion:
A bit of a monster movie
Sparky's Big Fat Opinion:
I guess the whole hypnotism thing isn't too cheesy. And it was *very* cool to see Miss Shannon in Elvira-type duds. Again, any episode with Bertha and Prudence has to be good.

Back To the Airing Order Guide
Back To the Alphabetical Order Guide
---
The textual content of this page was written by C. "Sparky" Read, and may not be reproduced without her consent. Screengrabs may be taken and used without permission (though giving credit would be polite).